Extraordinary women, extraordinary stories of change: Primary care nurses transforming rural health
Extraordinary women, extraordinary stories of change: Primary care nurses transforming rural health
In the Southern landscape of Rajasthan, 40 kms from Udaipur city ,the gleaming city lights pave way to an endless stretch of hilly terrain and occasional mud huts scattered across the horizon. These are some of the remotest corners of the country where tribal communities have lived in impoverished conditions for several years now. Poor accessibility and availability of public facilities and services have translated into poorer standards of living in the area. Despite the presence of primary and secondary schools , the quality of education has remained poor with around 43%literacy in these areas. Amidst such adversity there are stories of change-agents from the same community who faced the tides of time and are serving their own community in improving the health outcomes.
A story of will-power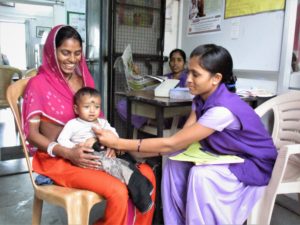 Ramila Kumar Meena belongs to one of the tribal communities in this area and works at AMRIT clinic Bedawal, 25 kms away from her village.  Ramila, who might be a mother or daughter in-law back home, but on duty, donning the purple uniform she introduces herself as the Head Nurse. In a span of3years, she has conducted deliveries of more than 300 women, managed complications and saved hundreds of vital lives. "My biggest joy is my 3 year old daughter. I pine to see her when I go home once in a week. I remember carrying her in my womb while preparing for my 2nd year BSc Nursing. My classmates had told me to quit studies to take care of my child. But my daughter was never a hindrance in the pursuit of my career. In fact, she gives me positivity, a purpose in empathising with every mother and providing quality care as a nurse. It amazes me how beautifully my daughter is growing, independently and managing herself…" she gleams in pride while showing a photo of hers in ghaghra choli with her daughter.
Shaping the role of nurses as primary care providers
This is a brief glimpse of several primary care nurses affirming values of hard work, integrity, resilience in becoming who they are today. With the support of their families, who have stood by them and with determined efforts, they have carved out a niche in the road less travelled. Giving impetus to this potential group of young change makers, Basic HealthCare Services has been working in these underserved areas building the cadre of nurses from the same tribal communities. For the past 4 years, BHS has played a pioneering role in providing high quality preventive, promotive and curative healthcare services in the tribal belts of Rajasthan through a network of primary healthcare clinics, called AMRIT Clinics. These Clinics, managed by a team of 3 nurses and 2 health workers provide primary care in these areas where there are no other health services.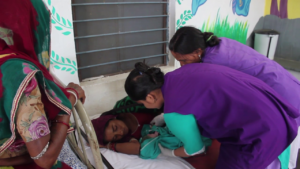 Strengthening the cadre of nurses imply nurturing them, grooming and training them as primary care provider and building confidence in independently manage these clinics. It involves redefining their responsibilities encompassing clinical assessment, examinations, diagnosis, prescribing standardised treatment and managing deliveries. They are also groomed in management and communication skills and in managing relationships with community members. In this entire design, the role of doctors is taken to a next level of providing mentorship and technical inputs to nurses through teleconsultation and on-job trainings.
Impact of the nurse-led clinics
Building the team of nurses has seen clear impact in the health seeking behaviour in the community. On an average, AMRIT Bedawal sees a patient footfall 450-500 per month.  Round the clock availability of the three nurses also ensures that emergencies and severe conditions are managed and promptly referred ahead. In areas where government Primary  Health Centres are often unable to ensure access to quality services in the last mile villages, Ramila and her team  set out on a motor bike travelling to interiormost hamlets providing essential antenatal, postnatal , contraceptive services and health education, apart from clinical care. In an impact analysis, it was seen that the proportion of home-deliveries had significantly reduced from 95% before the start of the Bedawal clinic to 30 % in 2017. Ramila goes on to share one of her enriching experience of managing critical deliveries at the clinic -"It was 11pm in the night and for the first time I conducted a normal delivery of twins! I was nervous I had never seen two placenta, but I knew I will manage it. And did it!", she exclaims.
The close connect with the community: enhancing accessibility to the most vulnerable
In the entire spectrum of work, AMRIT clinics have consistently focused on building a patient-centric approach, upholding values of empathy, equality and dignity to each member in the community. People in the nearby vicinity of AMRIT Bedawal love Ramila. They love the tender way she would speak to any patient , old or young, with an unceasing smile and counsel him or her for care. In a workshop on leadership, a colleague of Ramila (another nurse) goes on to share, "my role model is ramila. It surprises me how every patient visiting the clinic is fond of her especially the way she counsels. "  This goes a long way in affirming faith and belief in a healthcare system that improves appropriate care seeking in the community. In such areas of extreme vulnerabilities, women often happen to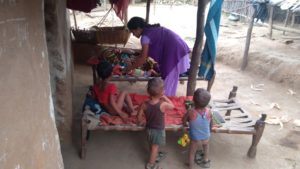 be the most marginalized section. The presence of nurses 24*7 and their compassionate approach in counselling the patients have been crucial in making these clinics women and child friendly.  In the year 2017, 65% of the patients (5 years and above) at Bedawal were women, who sought different health services spanning from injectible contraceptives, maternity care, treatment for different illnesses etc.
Support of the families in the way ahead
Ramila's team member, Manju (another Primary care nurse at the clinic) goes on to share how they would have to climb uphill for kilometers at times to reach houses located far, to provide postnatal care services to the mother and newborn. Recently Manju had followed up and successfully counselled a severely anemic woman and her husband and convinced them for referral for blood transfusion and receiving tertiary care in Udaipur. Her life was saved. A mother of a 4 year old son, Manju counts on her sister in law and gives credit to her for raising her little son. Manju shares she feels blessed to have supportive in-laws unlike many women in her community. As she develops her core skills in managing patients with TB and critical conditions, Manju aspires to pursue Post B.Sc. Nursing this year.
Nurses challenging traditional roles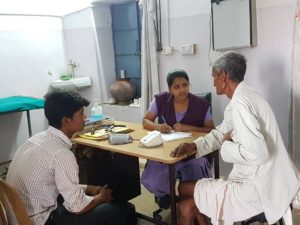 These are stories of tribal nurses transforming rural healthcare and defining their identity as primary healthcare providers impacting lives of thousands. In a country with patriarchal norms governing decisions around girl child, the pursuit of higher education, a career or valuing women's role in working for the society is rare. However stories as that of Ramila and Manju dispel parochial belief systems , creating and asserting their own identities in difficult-to-reach areas. With determination to provide quality healthcare, these front line providers are inspirations both in the community and in the larger domain of healthcare and medicine.
Manisha Dutta, Executive (Programs), Basic HealthCare Services/ Aajeevika Bureau