An agenda for young doctors: Reclaiming values, relevance and skills
Young doctors are facing anxiety and insecurity
Being a Doctor is challenging and worrying for the new generation of doctors. There is an ever increasing insecurity among the young doctors (actually even among not so young doctors) about the future of medical profession. The number of cases of violence against doctors is increasing day by day. A clear uncertainty is visible on the faces of doctors working in cities and the population they are dealing with. In one of the general meetings of young doctors organized by a reputed national organization I heard a senior doctor saying that 'he is afraid that his children will not get a job in corporate hospitals in future'. I was astonished to hear such words. If one has the required skills and perfection who will not offer a good job to that person ?
I am a young physician too and have an experience of working in a government tertiary care hospital, a private hospital and an NGO in rural India. I feel doctors have gone over the top and are overreacting about the insecurity about their profession. All of them are looking at the problem from one side, reluctant to flip the coin and look at the other side.
Is the scarcity of the doctors in India real?
I have heard the media and doctors shouting about the scarcity of doctors, which is really not the exact truth. Let me try explain what the exact scenario is. In India, approximately 70% population live in rural areas and 30% in urban areas, as per the census 2011. There are more than 460 medical colleges in the country (including government and private) and almost all the colleges are situated in cities. Now consider a medical student, who may be coming from rural or urban area (that does not matter). He completes his six years of education in a city, then prepares for post-graduation, and if he is lucky, does his post-graduation from a hospital situated in city. After residing in a city for more than 7-8 years (minimum), he cannot go back to a rural area and serve there. He is not acquainted with the unavailability of basic needs, so expecting him to go back and work in rural is a long shot. Such a pattern has led to scarcity of doctors in the rural areas, as 70% of doctors are living and working in cities (urban) and only 30% join the government job or do a practice in rural setup.
The situation is like diabetes, where there is so much of sugar is in the body but cannot be used constructively; a situation of scarcity in plenty. For 70% of the rural population we have only 30% of the trained doctors and for the 30% of urban population we have 70% of them!
The rat race of specialization
Another fact is that we the doctors have created a mess ourselves, we are following the path that our seniors followed. Someone from an older generation of doctors, who first pursued the residency (MD or MS), he started saying that I am superior, an MBBS doctor does not know anything. He knows more than an MBBS and he is the "specialist". We doctors ourselves coined the term "specialist" to show that we are superior. This has led to a mindset among the common public also that an MBBS doctor does not know anything. Such a situation led to a lowering of self- esteem among young MBBS graduates as well as students. To compensate for that, almost all medical students, immediately on graduating join some coaching Centre in Delhi or other metro city to prepare for the post graduate entrance test. They spend an average of three to four years just preparing for the entrance test and not doing any active clinical practice. Such a situation leads to a stranded pool of young doctors who are not available for the clinical care. There is a huge imbalance between the young medical graduates passing out each year and the available number of post graduate seats, which increases the period during which doctors are just preparing for the entrance test. Such a situation, along with the increasing expectations of the society creates a huge pressure on them. Some of them succumb to the pressure, and take an extreme step of committing suicides.
Even those doctors who start practicing, get into a defensive practice and focus more on documentation and preventing legal action rather than treating patient. Due to fear of outrage and unfavorable laws, doctors have stopped taking risks and consider referral of sick patient (without properly examining or providing pre-referral care) as a safe option.
Losing connection with populations we are supposed to serve
While trying to prove our superiority in the society, the doctors loose the connection with the community, which leads to a further negative perception about them. In the past, an MBBS doctor would take care of bulk of the healthcare needs of the family, and he was considered a part of the family, the real family doctor. Over a time period, we have lost our clinical skills, communication skills and emotional intelligence that built trust between us and the population we serve. Such a situation is hugely responsible for aggression and violence against the doctors.
We the doctors ourselves feel ashamed of being called only an MBBS doctor. We love a long tail of degrees after our names. Knowingly or unknowingly we also started feeling that degrees are more important than essential clinical, communication and social skills.
Reclaiming our values, relevance and skills
We need to re-establish the lost connection between doctors and community members. For that, we have to go out and work in the communities. For that to be effective, we will have to improve our clinical, communication and social skills that are relevant to the needs of the communities. We have to become better physicians, better communicators and better people. We will also have to work with, support and empower nurses and community health workers. These health human power, whom we often call our subordinates are the key players who can play a vital role in changing the health status of the country, provided they are given the due acknowledgement, training and guidance. We doctors need to understand that we alone can do nothing. Only a team can achieve the goal of universal healthcare.
We can't simply sit back with our ego and do nothing for the deteriorating condition of the healthcare. I am only trying to be a mirror for the young doctors, hoping that the mirror will help all of us see where we stand and what we need to create a better world for us and for the ailing millions, who desperately need us.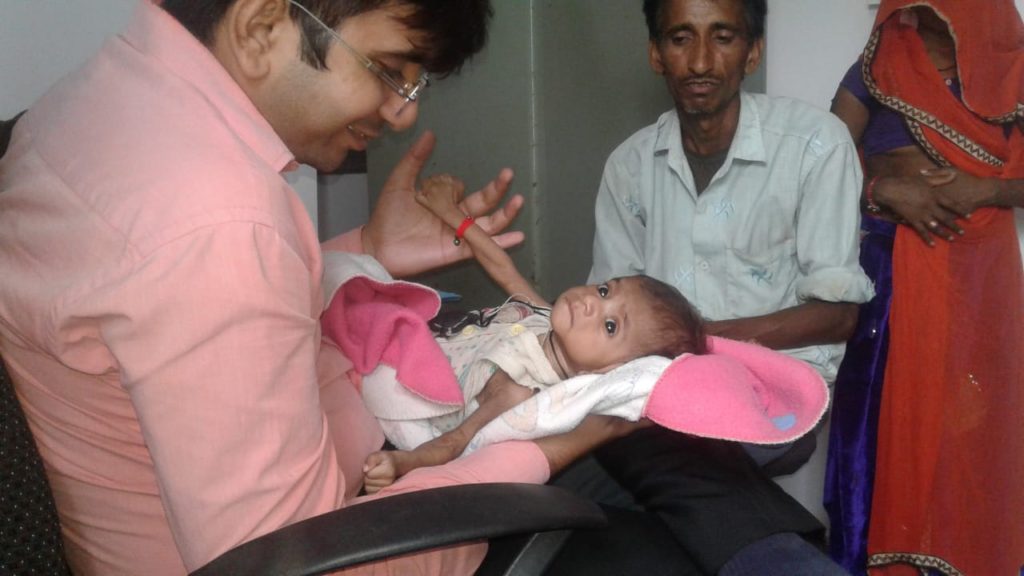 Yogesh Sharma ,MBBS is a Basic HealthCare Services Fellow 2018,who is working in the Gogunda region of Udaipur district.