An evening in Morwal: Of High-quality and Responsive Primary Healthcare saving lives of Tribal communities
AMRIT Clinics are primary healthcare clinics which provide preventive, promotive and curative services and are located in rural, remote areas in Udaipur district in southern Rajasthan. The clinics serve predominantly tribal communities living in extreme deprivation and facing a large burden of morbidities and malnutrition. A team of primary healthcare nurses supported by physicians manages the clinics; with health workers mobilising communities and promoting linkages. Services utilized at the clinics reflect the key health needs of remote and underserved communities: since the clinics began in February 2013 they have seen over 50,000 footfalls, over 400 deliveries have been conducted, nearly 500 patients with Tuberculosis and 200 children with severe acute malnutrition enrolled for treatment.
Following is an account from AMRIT Clinic Morwal, which started functioning in January 2018. The region is very remote with no network connectivity for over 15 kms and poor transport connectivity with only few buses and private jeeps plying in the area. The nearest health facility is almost 22 kms. away, at block headquarter in Gogunda. Seventy percent of the population is tribal, with literacy levels of around 40%. The poor connectivity hits maternal health hard- baseline survey conducted in the region in end 2017 showed that almost one-third of the deliveries had occurred at home and there was a large unmet need for contraception.
It was the evening of 1st June 2018, and the team of primary healthcare nurses and health workers at AMRIT Clinic Morwal were sharing their experiences of the last 10-15 days.
"This woman came here and asked us to measure her blood sugar. The glucometer recorded Hi, meaning a blood sugar higher than 600. She then informed that she was on Insulin previously but had stopped it some time back as her treatment, from Gogunda, was very expensive. I spoke to Sir (primary healthcare physician) who advised for starting IV fluids and Insulin. The phone line here is very erratic and after some time the phone stopped working. It was important to discuss the progress with Sir, so I went with Hemant (the health worker) to the nearby village (about 5 kms away) on motorcycle. There is network there on top of the hill and I walked there from the road, spoke to Sir who advised the treatment. This visit took time but family was very supportive. They shared- Sister, we are seeing your efforts and concern and we trust you. We will wait. You please go and talk to your Sir. Since that day, she is much better- earlier she had difficulty in walking, today she came again and was walking comfortably. The family also confided that earlier they would spend a lot on buying Insulin and had to stop treatment. But now they will be able to continue." This was Priyanka, the senior-most nurse, who is also the nurse coordinator at Morwal. Her responsibility and pride shone brightly in her eyes and in her body language. Hard to believe she is less than 25 years old.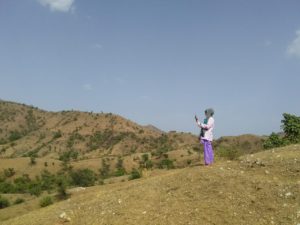 "We conducted a delivery, and it was the third child of the woman. The delivery was done well, baby cried nicely. After the baby was born, however, the placenta did not come out. We gave injection (Oxytocin), performed uterine massage, but to no avail. Finally we called 108 (Ambulance services provided by the government) and referred her to Gogunda CHC (Community Health Centre). I know this was a life saved but wish we could have managed this here" shared Rekha, one of the primary healthcare nurses working at Morwal, in a quiet, confident voice.
Timely identification of an emergency during delivery and referral are akin to saving a life. I shared an experience from another part of Udaipur, also a rural area, from less than a month ago, as narrated by a doctor. A woman in labor was taken to a sub-centre but there was a problem and she was referred to the Medical College Hospital in Udaipur. Very unfortunately, the woman died on way to Udaipur. A post-mortem performed revealed ruptured uterus. In the present situation, timely identification of retained placenta and referral no doubt helped save the life of the woman.
"We referred Kaluba* who had severe pneumonia to Udaipur. The ambulance, though, took him to Gogunda (CHC, about 50 kms. from Udaipur) where he was prescribed medicines and asked to go home. When I spoke to him and learnt he was about to leave Gogunda for his home, I immediately asked him to hold on there and quickly left for Gogunda. I convinced him to go to Udaipur and made him board a bus. I also called up Jitendra (a colleague based in Udaipur who supports the patients referred from the clinics). Kaluba got admitted in the hospital and is now much better." This was Hemant, the bright and enthusiastic health worker.
"I saw this child, one and a half years old. Having high fever- 106 degree (Fahrenheit). We tested her for Malaria, it was positive. We kept her here, gave medicines, did sponging. After some time the fever started to come down. She was hungry, they (her parents) did not have anything to eat. I made rice and offered to her. In a few hours she was much better," narrated Regina, the youngest nurse at the clinic, with a spark in her eyes.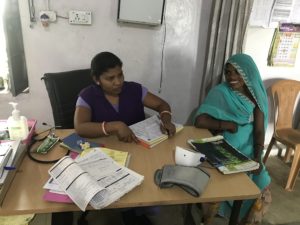 "I was here last Tuesday when this woman came with bleeding (from vagina) and severe abdominal pain. The nurses quickly started IV fluids and spoke to the doctor. With a diagnosis of suspected Ectopic Pregnancy, they immediately called for the ambulance and referred her to Udaipur. In the hospital, the diagnosis was confirmed and the woman operated upon immediately" recounted Swapna, who supports with data management and logistics at the clinic.
"This child, who was severely malnourished, came to the clinic once, was found to have Malaria. He was given treatment and was asked to come back but the family did not come. I went to his home, explained to his mother the risks from severe malnutrition and asked her to bring the child back. The child has since come and is now better," Rukmini, a health worker and the youngest member of the team added shyly.
This was humbling and moving. Each of these experiences, a life saved. The power of responsive, high quality and low cost primary health care, with dignity. Care available close by, where absence of transport and phones does not deter families. Nurses and health workers with a conviction and unbending will to make a difference. More power to the cause, to our doctors, nurses and health workers- may their touch transform health, especially of the marginalized, who may not have other options.
*Name changed to protect identity
By Dr. Sanjana Brahmawar Mohan, Director (Nutrition), Basic Healthcare Services