Lasiyo, 2 year old child, lives in Khajuri- a remote, sparsely populated and poorly connected tribal hamlet. In the morning of a day in early September 2016, his mother noticed that Lasiyo was having high grade fever. Shehad never been to the nearby town alone while his father who works in Ahmedabad as a labourer was away. To reach the closest functional health facility, mother would need to take the only bus out of the village which had left about one hour ago.She decided to take Lasiyo to a newly opened Clinic close to her village, where young nurses are always available, she was told. Ramila, the Nurse on duty and a tribal girl herself, quickly assessed the child for a danger sign, conducted the Rapid Diagnostic Kit test for Malaria and detected the child to be suffering from a severe form of malaria (caused by Plasmodium Falciparum).She comforted the mother, sponged the child to bring down the temperature, and in tele-consultation with the physician, gave the first dose of artesunate-combination treatment, and Primaquin. She then kept the child in observation for about an hour, and counseled mother on how to give the drugs at home. Since the mother was pregnant, Ramila also gave her an insecticide treated bed-net and advised her to sleep under the net. She followed up the child at household the next day. Two days later the child was well and symptom free.
Would Lasiyo's mother have been able to seek care for him at the nearest town? In all probabilities, no. Is a physician likely to be available in Khajuri in near future? In all likelihood, no. Is Ramila, a qualified young tribal nurse, able to provide high quality care? Yes, since she is skilled, equipped with basic technology and supported to provide primary healthcare.
Nearly three-fourths of the population in India live in rural areas- for a large segment of this population, especially those living in far-flung areas, consulting a qualified physician is a remote possibility. Young physicians raised in cities aspire to specialise, and are unable to live and provide primary health care in remote and difficult areas. As a result, more than 9000 positions of Medical Officer at a Primary Health Center (PHC) in the country are vacant. Even when posted in such areas, many are available at the centers only sporadically (EPW 2004)- for example in Bihar, as many as 80% of doctors were not found at the PHC on a day when the centres were surveyed (http://www.indiaspend.com/sectors/health/the-mystery-behind-indias-present-absent-doctors-study-13326). Yet another cause for concern is the insufficient training and limited,inadequate skills that primary care doctors have for managing common illnesses (https://www.ncbi.nlm.nih.gov/pmc/articles/PMC3730274/).
The result- families living in such remote areas either do not seek care at all, or consult unqualified providers or faith healers. When disease advances, they rush to seek expensive care from hospitals in the city.This scenario is largely responsible for persistent high death rates specially among women and children, high prevalence of diseases such as malaria and tuberculosis, and slippage into poverty,of families living in rural and remote areas.
India is committed to promote health for all at all ages
India,along with more than 150 countries of the world, is committed to ensure healthy lives and to promote well-being for all at all ages (sustainable development goal-3). The word all appears twice in this commitment, making the goal more meaningful but also more challenging.The first all is in reference to all people, irrespective of the social and economic background they may have,irrespective of where they live (rural or urban), what they earn (rich or poor), what social group they belong to (tribe, caste, religion) and what gender (males or females) they are. The second all is in context of the stage of life- newly born, or child, or adolescent or youth or elderly. This basically translates into a healthcare system that provides high quality care not only for the advantaged populations (men, upper caste, affluent, living in urban areas), but also those living in remote rural areas, under privileged castes, poor and women, across all age groups. It is clear that a healthcare system dependent on doctors who are less available and insufficiently skilled to provide primary healthcare in far-off areas cannot achieve this goal.
Nurses can help meet this commitment if they are skilled, supported and mandated
What are the alternatives? While it is extremely important to improve living and working conditions of the doctors and re-look at their training, skills and remuneration so that they are motivated to live and work in such underserved areas;there is an urgent need to identify and engage alternate care providers to meet this huge responsibility. There is now reasonable global evidence that nurses can manage patients at the primary healthcare level as effectively as doctors (http://www.medscape.com/viewarticle/851933). In fact, they often are better than physicians in terms of communicating with marginalized families and providing outreach services.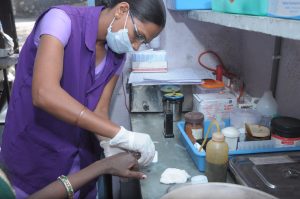 AMRIT Clinics are not-for-profit primary health care clinics that provide high quality, evidence based and low cost primary health care to underserved tribal communities in southern Rajasthan. Based on our own experience of working closely with Primary Health Care Nurses in these clinics, we believe that this cadre can substantially and rapidly fill the gap of providing high quality primary healthcare to all age groups in remote, rural areas, provide they are skilled, supported and mandated. We explain these in some detail below:
Skilling nurses to become Primary Health Care Nurses: Skilling the nurses for assessment and management of common illnesses(for eg., Malaria, Typhoid) or conditions(such as Diabetes, Hypertension) and use of standard protocols helps significantly in ensuring quality of care, and minimises chances of  error. In addition, the PHC Nurse needs to be well versed in communication techniques and effective social interactions, so as to instil the necessary behaviour change, promote compliance specially for difficult conditions, and ensure greater community participation.
At AMRIT Clinics emphasis is laid on skill building of the nurses, through periodic trainings and on-job support. The nurses follow simple yet scientifically sound protocols, such as checking vital parameters (including pulse, Blood Pressure and oxygen saturation) of each patient, therby minimising chances of missing a serious illness; and ensuring that all children and adults with fever undergo a test for malaria, and on testing positive receive a standard treatment- thus promoting early detection and correct treatment.
Skills in obstetric and newborn care have enabled the nurses to prevent and manage complications such as post-partum haemorrhage and neonatal asphyxia, conditions which could otherwise have been fatal. Bedawal is a sparsely populated tribal panchayat, about 20 kilometers from the nearest functional health facility, where till few years ago most women delivered at home, often at a high risk of death to themselves and their children. Bedawal AMRIT Clinic was set up 4 years ago since when skilled nurses have conducted more than 300 safe deliveries, significantly reducing the risk of complications and death among mothers and newborns.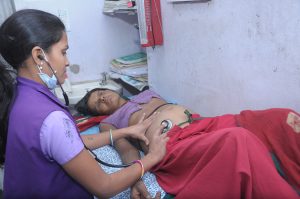 As a result of their training in child health and nutrition the nurses can also identify childhood pneumonia, diarrhoea with dehydration, and manage children with Severe Acute Malnutrition.
The clinics see a large number of patients of Tuberculosis, nearly half of who have taken some anti-tubercular treatment before coming here. Poor nutritional status and abject poverty makes the patients even more vulnerable. The nurses not only educate the patients on their treatment and diet, but also visit them at home and counsel their families to fully support the patients during the treatment phase. For many the treatment has been life-transforming, from a situation of indebtedness, ill health and utter despair to one of total cure, return to work and earning and leading a normal life again.
Supporting the Nurses to provide primary health care: Use of technology for point-of-care diagnostics and tele-consultation can enable the PHC Nurses to provide high quality healthcare. Availability of smart phone helpsthem transmit pictures or videos, depending on the patients illness, to physicians for advise regarding patients diagnosis or treatment. Having a physician for tele-consultation and regular training helps the PHC nurses to discuss the cases as well as maintain a professional affiliation. Responsive and alert referral systems can help transfer sick patients to higher facilities without wasting time.
As an example, a physician visits AMRIT clinics on a fixed day every week, and is available 24 X 7 for tele-consultation. Timely sharing of videos, e.g. an infant with a danger sign has brought about immediate recognition and action, thus saving the child's life. Equipped with simple tools such as pulse oxymeter and fetal doppler help to timely and accurately identify the severity of illness and monitoring of the patients. An Ambulance is available closeby, to reach the clinic in about 30 minutes, and speedy transport and admission in hospitals has saved lives of many.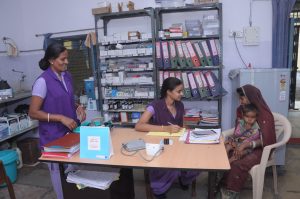 Mandating the Nurses to provide primary curative care:   At the moment, there are restrictions on a registered nurse to prescribe drugs, though they can manage a patient under supervision.  A clear mandate to PHC nurses that enables them to assess and manage patients presenting at the rural primary healthcare level, following a training in standard protocols and basic clinical skills can go a long way in ensuing high quality primary health care closer home.
Twelfth May, birthday of Florence Nightingale, is celebrated world over as the International Nurses Day. This year the theme of the day is- Nurses: Voice to Lead (to) Sustainable Development Goal. Let us heed to their voice. They are our best bet to provide healthcare for all those who live in remote rural areas, and whose voice is drowned in the distance and din of development.
Dr Pavitra Mohan (Secretary, Basic Health Care Services, and Dr Sanjana Brahmawar Mohan, Director, Basic Health Care Services) work closely with  Nurses and believe in their power to transform primary healthcare systems.