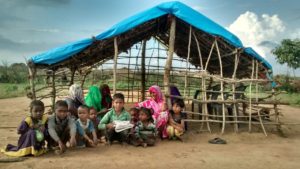 Mangra fala is a small hamlet located in a corner of Dungarpur district in South Rajasthan. The hamlet with 40 households is surrounded by lofty hills and disconnected from the pakka roads due to a perennial stream running by the village. The impenetrable topography is further distressed by poor availability of any facility in the area.  26 year old Lalki lives with her two children in this hamlet. During one of the wintry nights of January'17, Lalki was nine months pregnant with her second child. Her husband like many other men in the village, is a migrant labourer in Gujarat, where he polishes marble in swanky homes to make ends meet. On that wintry night, Lalki was all by herself when her labour pains started. She knew the 'time' had arrived. She tried calling the 104/108 but there was no way by which the 4 wheeler could cross the hills. Lalki was helpless and lonely.
She then decided to call up the Primary healthcare nurse of her Sub-Centre (SC) Pal Nithauwa, who she knew well having met them over five times during her antenatal check-ups. The nearest PHC located in Nithauwa Panchayat was 15km from her house. The male GNM staff, having received her call left immediately on his bike in the wee hours of the night to Lalki's home. He quickly assessed her condition, helped her pack her clothes, spoke to her husband and left for the PHC carrying Lalki safely on his bike. As soon as she reached the PHC, Lalki was taken to the labour room by the PHC team and 3 hours into labour, she delivered a healthy baby girl. Lalki and her child were admitted and closely observed for 48 hours at the PHC. The following day after discharge, the ANM and the ASHA followed up at her home and subsequently Lalki received 5 PNC visits. As her child grew up, Lalki took her child to the immunization session in her hamlet that the SC ANM conducts every third Thursday in her village. , .
The story of Lalki is one of the many stories where inaccessibility and deprivation of the most vulnerable families have been eliminated by a responsive primary healthcare. Subsequently, the Sub-Center team also spoke to residents of the hamlet regarding community support for ensuring timely transport to the PHC. Prior to Lalki, all women living in Mangra Fala delivered at home, In the same year (2017) thirteen safe deliveries from Mangra Fala were conducted at the PHC.
PHC Nithauwa located in Aspur Block of Dungarpur district of Rajasthan,  has been  jointly managed under a Public –Private Partnership by Basic HealthCare Services, Aajeevika Bureau and the Govt. of Rajasthan for the past two and half years. Apart from a high Outpatient footfall of over 51,000 in a span of 2 years, the PHC has managed 1463 in-door patients as well. A demographic analysis highlighted 75% of patients were tribal and 47.5% were women seeking care at the PHC. It has seen the highest number of deliveries in the entire Aspur Block (930 deliveries) consecutively in 2016 and 2017.
PHC team consisting of a primary care physician, skilled nursing staff, a pharmacist, a lab-technician and other ancillary staff provides round the clock care: outpatient services, management of emergencies, maternity care, detection and treatment of infectious diseases such as TB and malaria, as well as detection and management of non-communicable disease such as hypertension and diabetes. This, along with a well-spread outreach activities like timely antenatal, postnatal check-ups, immunisation, active surveillance of malaria and TB screening activities, community engagement through schools, home visits and participation in Gram Sabhas have focused on preventive and promotive care and community ownership towards health.
Apart from the responsive and skilled staff, quality infrastructure such as a well-equipped labour room, radiant warmer, autoclave, a phototherapy machine, defibrillator and a clean maternity ward have enabled to provide quality care and treatment at the PHC.
Primary Healthcare continues to be the foundation on which healthcare of a nation rests. The National Health Policy 2017 outlines "the attainment of the highest possible level of health and wellbeing for all at all ages, through a preventive and promotive health care orientation through increasing access, improving quality and lowering the cost of healthcare delivery."  As our experience suggests, apart from commitment of free-of-cost services, a skilled, motivated health workforce and availability of appropriate infrastructure goes a long way in ensuring a fully functioning and responsive primary healthcare.
For India, Ayushman Bharat will become a reality if the primary healthcare systems provide a family-centric care, closer to where families live, and respond to their social realities, especially of the most marginalized. Working in South Rajasthan among rural, tribal communities, we believe this is the only way to ensure healthcare for all, and achieve Universal Health Care Coverage.
By Manisha Dutta, Executive, Basic Healthcare Services (BHS), a not for profit organization that is driven by a vision of a responsive and effective healthcare ecosystem that is rooted in the community, where the most vulnerable communities can actively access high-quality, low-cost health services with dignity. BHS partners with Aajeevika Bureau to provide primary healthcare services in remote, rural and high migration areas of South Rajasthan.