Apexa Raithatha, Divya Manchanda, Nithin Ignatius, Shyamsundar Raithana and Sanjana Brahmawar Mohan
The domain of primary healthcare has 2 sides, like those of a coin: many doctors speak of the wide range of conditions they see and the emergencies they manage in situations where they often do not have the luxury of investigations for support, of the "clinical courage" which grows and keeps them rooted in trying times. At the same time, many working in similar setting also lament that primary healthcare is so much about "choti-moti bimari" (minor illnesses) only, the absence of "adrenaline surge" that they miss, and the administrative burden they deal with- which often overwhelms them.
WHO identifies three inter-related components of primary healthcare: meeting people's health needs, including preventive, curative, rehabilitative care; addressing the determinants of health; and empowering individuals and families to optimize their health (WHO, 2018). How does this play out in reality- on the ground in remote areas, far away from the textbooks and the institutions where it is taught? Working in rural southern Rajasthan we see a clear face of primary healthcare- where one deals with most of what ails the communities- both of acute onset or more long term, could be a mild condition or a life threatening one. Sample this: a regular day on the ground can bring many Tuberculosis patients (including few with severe disease, hypoxia and severe malnutrition), Malaria including the severe Falciparum kind, pregnant women, Insulin dependent diabetes- with very high blood sugar and ketosis, children with severe malnutrition, and more. One sees and learns to work in a team- where doctors, nurses and health workers all come together to assess, treat, counsel and support patients. And all this in a place that is close to the community, and nature- helping one to connect with them both.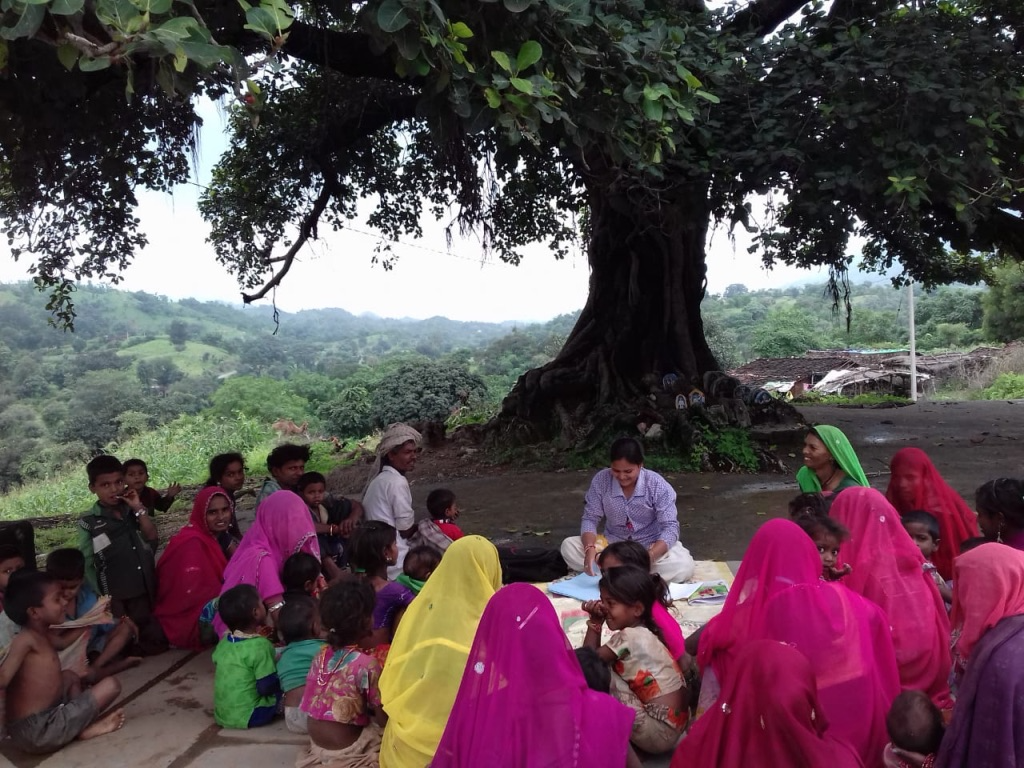 Over the last many years, the young doctors who have worked here in deep rural and tribal regions have spoken of what this experience means to them:
"I have been able to see and manage so many conditions- from TB to diabetes to Rheumatic heart disease, to severe malnutrition. If I had worked in a hospital in a city, I could not have learnt so much!"
"I worked in a large hospital previously. But I could learn only about one kind of illness. Here I learnt about so many."
"Working together with nurses and health workers, there is so much that gets done. I love the energy, it is fantastic!"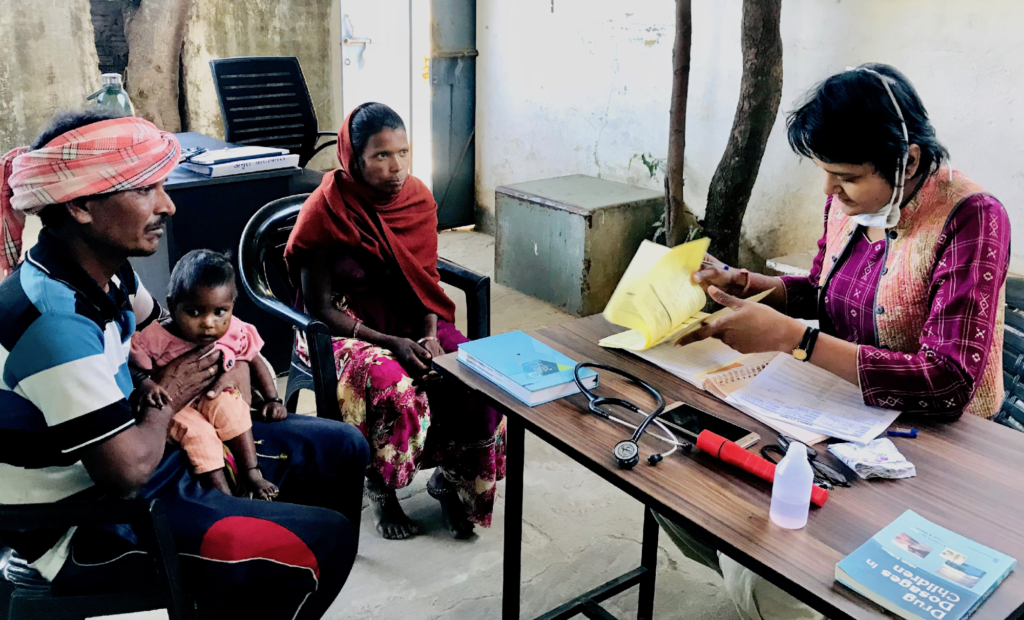 Till 2021, at any one time there would be not more than 2 or 3 young doctors at BHS. While these messages speak of the value of primary care loud and square, these have often been the lone voice at that point of time. The last year changed things: with the start of the Travel fellowship for young doctors – offered by a network of healthcare organizations spread across the country – BHS has been home to many bright and young minds all at the same time. The fellowship offers young doctors a chance to visit and immerse themselves on the ground, in areas away from the hustle-bustle. As we share below, there has been a steady outpouring of their varied experiences in primary care:
Primary Health Centre (PHC) Nithauwa is a bustling health facility full of action, a place that has health personnel and all facilities required in a primary healthcare setting, available 24X7. It is thus no wonder that the PHC is sought by communities from near as well as far: a day can bring 100 patients, 3 or more deliveries, and now also 300 or more COVID vaccinations. Read few of Shyamsundar's observations while providing healthcare at the PHC:
"It was one of the busiest OPD days at the PHC……I consulted 127 patients in 4
hours…. two cases left an impression on me….One was a 40-year-old female named
Ganga and another was a 15-year-old male named Rahul. Ganga had come for an
emergency consultation complaining of breathlessness, chest discomfort and
restlessness. We examined her and found her vital parameters (pulse, BP, SpO2)
stable and chest was also clear…….On trying to probe deeper in her life, we learnt
that her mother-in-law had died in the last month and there were family conflicts going
on with some relatives. On asking her if she was getting disturbed by those issues,
her facial expressions changed and she had tears in her eyes. I realized that it was
the cause of her discomfort and tried to ask her to share her concerns and
problems.……… While leaving she appeared relieved and her face which had been
tense and mask like when she had presented appeared to be a bit relaxed.
On the other hand, Rahul had presented with an abscess on his sole following some
injury. It was painful, tense and red in appearance…….We took Rahul to the dressing
room and put a small incision to drain the abscess…….
I felt that both persons had something piled up inside which needed a vent to come
out. One had emotions piled up while the other had fluid piled up. One had a tense
face and the other had tense skin, both of which caused a lot of pain. Giving a vent
provided relief to both of them. One needed empathetic talking and listening to open
up and the other needed a blade.……..trying to delve deeper into her personal life I
could know more about her and find the root cause of her suffering. I think that is the
essence of person-centered care. I wish we as doctors can look beyond physical
vitals to emotional vitals more often and facilitate venting of emotions more
frequently."
"…….in the evening, a 30-year-old woman came with the complaint of bleeding PV.
As she came in the room drops of blood were falling down her clothes…..We took her
to the gynaec examination room and found blood flowing continuously from her
vagina…….She had taken some medicines for abortion from a medical store a month
back. She was passing some amount of blood for almost the entire month but the
bleeding amount had increased that day and she was passing clots. Her BP was
stable – 120/80 but her Hb was 6.1 and she was quite pale.……we decided to
stabilize her and then refer her. We administered Misoprostol 4 tablets sublingually.
Her BP dropped a bit up to 100/60 but then she maintained that with IV fluids. We
monitored her every 15 minutes initially. Slowly her bleeding reduced and almost
stopped. Next day she was fine and maintained her BP and started her regular oral
intake. Her Hb dropped to 5 but her overall condition was good. She was able to take
care of her own self. She was worried about her children and the animals at home
and wanted to go home early.
If we had referred her directly without doing anything, it was unlikely she would have
gone because of many barriers such as distance, cost, unfamiliarity, etc. She might
have landed up at a Bengali doctor or am not sure where and I wonder what would
have happened to her. Even if she had managed to go to a referral facility, she might
have gone to a private facility which would have been a costly affair. While trying to
stabilize her we could almost manage her condition."
AMRIT Clinic Manpur is the last village of Udaipur and borders Dungarpur and Pratapgarh districts. The confluence has helped make the clinic a sought after place for patients from all these districts. Patients with respiratory conditions make up a large proportion of those coming here, many of which are acquired from working in hazardous occupations like mining and stone grinding. Unfortunately, many times the disease causes severe and irreversible damage to the lungs. After seeing many patients with such a condition, this is what Apexa had to say:
"My relationship with Occupational disease:
– (Have) Always read and taught about it
– Huge impact of diseases over here directly and indirectly
– Treated one male young male – 35 years at Manpur Clinic (The patient
had Silicosis, acquired from working in stone grinding and idol making)
– (I wonder..) ARE WE ON RIGHT TRACK – CONSUMERISM –
FASCINATION FOR FINEST MATERIAL – AT A COST OF LIFE OF
SOMEONE
The last line is a poignant observation from seeing hundreds of patients with Silicosis at AMRIT Clinics in the last year, acquired from stone grinding in the process of making beautiful idols. In many of these, there is severe and irreversible damage to the lungs – many of whom do not survive beyond a few months or years. 
Primary healthcare offers the unique opportunity to travel between villages and towns, get very close to the communities and understand them better. This is what Divya found out during one of her travels:
"On my way back to Salumbar, I had the chance to talk to a Bai ji (a common term
used in Rajasthan, this refers to a slightly older woman)……The first thing she
asked me was the name of the village I was from. I told her I wasn't from Rajasthan
but from Haryana………She didn't ask me which state or district or city I was from
but village I belonged to. The concept of geographical boundaries and division into
states and maps seem like a concept created by the so-called modern society
which has been proudly demarcating boundaries for people who seem to have no
idea about those.
Bai ji left me with instructions to stop auto or bus by the waving of hand and go
before it gets late…….I waited for five minutes and then decided to go to her place
of work. There were about twenty people there……One of them asked me where I
was going. Salumber, I answered. Another girl – Sapna asked me to rush because
there was a bus from here in a few minutes……Eight young girls followed me to see
me off. Eight people stop by the road to drop one person who they had met just five
minutes ago. In those fifteen minutes I was asked to stay with them for the night
and leave in the morning…….with a promise to visit some time I climbed on to the
bus and left. Would a person from where I come from be as generous to a complete
stranger as they were? Am I? I don't think so."
The dynamics of caste do not spare primary care, as we found in one of the AMRIT Clinics. The so-called "higher castes" tried staking claim over the services, at the cost of serving the tribal communities- in similar manner to what has happened for many of the developments in the region. Read Nithin's reflections when working in this clinic:
"First person to befriend me in XXXXX (name of the village) was Tomu. An intelligent
stray dog who was loved by most in the village. Tomu took me around the place. I got
to meet his friends – Baiji's kids (Baiji being the clinic attendant) and their cousins who
was eager to roam with us teaching Tomu new tricks for treats, the priest of goddess
Kali's temple who consider Tomu a greater bhagat (deeply religious person) than him
owing to his calm nature and many villagers with whom he shared a bond. Next
morning Tomu took me across a block were lived community from another caste,
people there called him Bittu. Nonetheless he was loved by most people there also.
His friends on the new block included a rich man who took pride on him and
considered him the good guy. 
In a place where we are finding challenges to function owing to the caste and class
dynamics Tomu was a good example. If Tomu could speak he would have given me
a great lecture on how to work in heterogeneous communities but I guess his
message is still loud and clear."
Seen together, these messages show many layers of primary care- very different from each other yet so connected. From going behind the illness to what triggered it, to using all available resources and managing a life-threatening condition; understanding what leads to an illness; recognizing the simplicity and the beauty of the communities and also acknowledging the politics playing within.
These experiences give life and energy to the definition of primary health care. They expand and enrich- not only the young doctors themselves, but also those around them. Hopefully, these will also motivate more and more young doctors to take the plunge in this exciting field!