What Is Distinctive about AMRIT Clinics?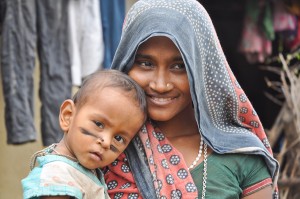 In response to the challenge of delivering quality primary healthcare, where ensuring regular availability of skilled providers is difficult, alternate solutions — telemedicine and services through community health workers — have often been implemented. At the time of conceptualising AMRIT Clinics, we considered these but found them to have some inherent limitations.
Telemedicine Solutions:  This solution addresses the problem by having a remote physician consulting with the patients in such areas. Such a solution however does not address the need for managing emergencies, providing services such as safe birth, nor preventive and promotive services, such as immunization and ANC.
Training of Community Health Workers:  Community health workers, when adequately skilled and supervised, have been shown to improve specific health outcomes such as neonatal mortality. However, the healthcare needs of the families extend much beyond what community health workers can provide. So while CHWs can supplement the functional health services, they cannot substitute the same.
We believe that nurses, when adequately skilled and supported, can address the challenge of delivering high quality primary health care in such areas. They are professionally trained and skilled as opposed to CHWs, and are much more adaptable to live and work in underserved areas as compared to physicians. Intensive training, on-job support, and use of appropriate technology allows them to deliver high quality care.
AMRIT Clinic is a practice innovation that judiciously combines three distinct innovations — human resource innovations, partnership innovations, and technology innovations — to meet the need for low cost, high quality services for healthcare in remote, rural and underserved areas.
HR Innovation:  Most primary care systems rely on physicians or on community health volunteers. While physicians are rarely available to live and work in remote and rural areas, community health volunteers have limitations in their ability to function independently and in the range of services they can provide.
In AMRIT Clinics, Skilled Nurses are the prime care providers and primary care managers. There is a downward integration with community volunteers and an upward integration with a Family Physician. Nurses are more available to work in remote areas, and they have the basic education and skills to provide primary curative care provided they are skilled and supported.
Partnership innovation:  Many primary care systems are not well utilized because of the weak linkages with higher levels of care. AMRIT Clinics forge social contracts with private hospitals to provide near free referral care. This has led to several lives saved, increased confidence of the families in primary care, and fulfilled social obligations of the private sector. The Clinics also forge contracts with the public system to enable targeting of health entitlements to families, such as for free diagnostics and conditional cash transfers.
Technology innovations:  Telemedicine and other technology based solutions often aim to substitute the presence of skilled providers. AMRIT Clinics use technology as an enabler to allow nurses to provide high quality care, rather than as substitutes. The Clinics use low cost, appropriate technology to ensure reduced needs for unnecessary referrals.
For example, mobiles and WhatsApp are used for sharing clinical information, photographs, and X-Rays and for seeking the advice of specialists; and newer rapid diagnostics are used for prompt detection and management of several illnesses, such as Malaria and Typhoid. The Clinics also use primary care MIS for efficient management and quality assurance of the services.