What worries tribal communities of Rajasthan in the times of lockdown?
Government's sudden announcement on March 22 of the lockdown, and another announcement of 14 April for its extension created huge panic waves across the country. The situation for migrant workers and their families living in far-off villages is grave, especially in terms of food and nutrition.
Deva who is a father of a 22-year old young man, living in a remote village of Udaipur district shared with us that his son is stuck in Maharashtra, where he works as a cook. His son started his journey on foot with 40 others but police did not allow them to cross borders and they were all beaten up and held back. Deva and his 8-yr old grandson had very little to eat and a lot to worry about. They had received the monthly PDS support of 10 Kgs of wheat but had no way to go the mill to grind it. They are just one amongst the many aggrieved families whose bread winners have been stranded in the cities, while the other family members are left to fend for themselves in the villages.
In one of such village in Udaipur district of Southern Rajasthan, a local volunteer shared that thousands of people have returned from neighbouring states of Gujarat and Maharashtra. Many of them were not paid their dues and will also not earn anything for the next few months. While the PDS ration (wheat) has reached most of them, they have very little else. Some NGOs, including Basic HealthCare Services, had distributed food relief kits to more than 1000 families who rely on daily wages for buying food, those whose primary earning member is a stranded migrant, to single women and elderly people who are in need and have not received any ration kits from government.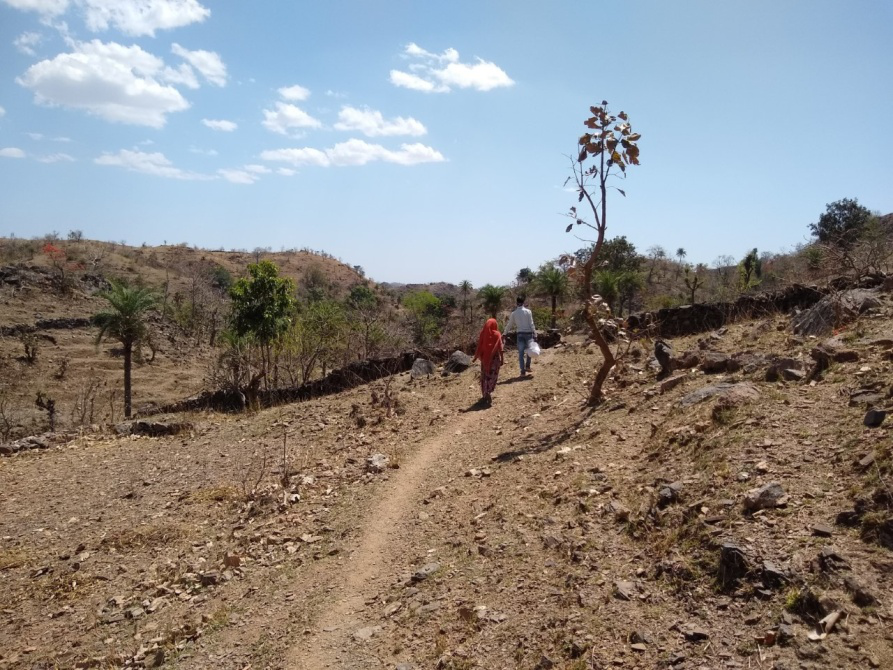 Most of the families we visited had 15-20 Kgs of wheat and few Kgs of channa dal (Bengal gram), which they usually store as seeds for the next crop or for a rainy day. There were many families we met who were surviving only on cereals for the whole day. Some of them had to sell their wheat to buy rest of food items like salt, and oil. They had no liquid cash and were not able to access money from their banks due to restriction in movement or physical debility. Eighty-five-year-old Kanji Ram lives alone and cooks food on his own. At first he struggled to get up from the bed and stumbled a little but then got up, garnering all his strength to greet us.  His ribs were clearly visible through his wrinkled lean body, spoke of food he was surviving on. He only had few Kgs of wheat and some red chillies. He found it difficult to speak but shared that," subah se kewal ek sukhi roti lal mirch ko pani mai ghol k khai hai". His wife died during delivery of his second child and his son lives and works in Rajkot.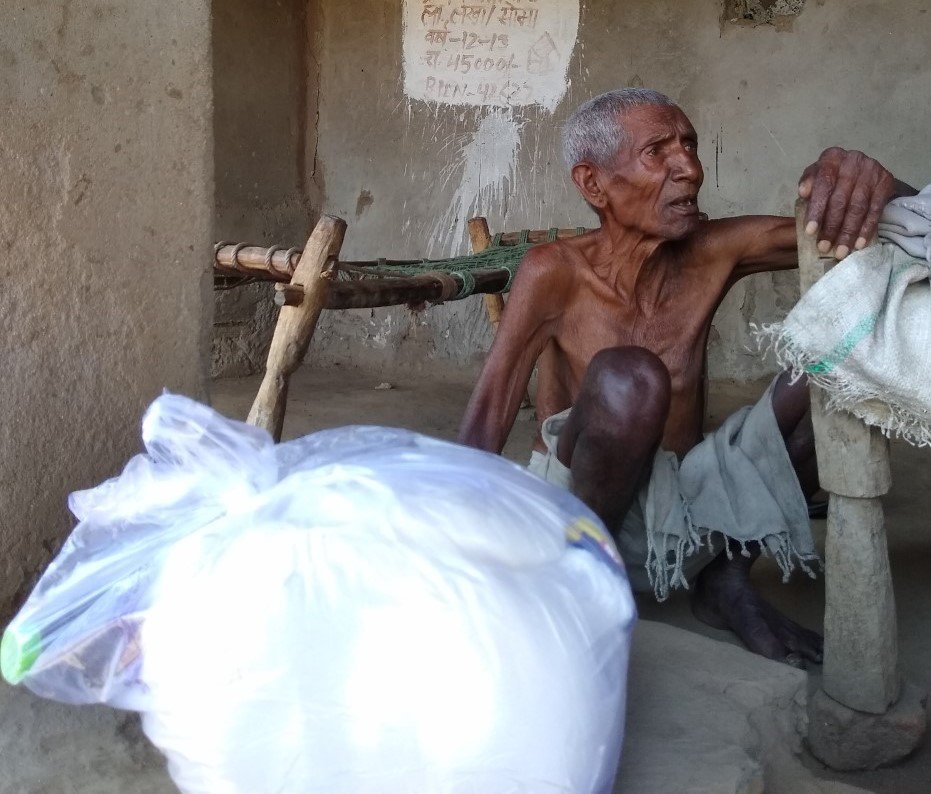 While speaking with some of the migrant workers, one of them shared that ",..they should have informed about the lockdown earlier…we would have arranged for money and come back timely." In some of the households, we found notice affixed outside the door stating "Home under quarantine", "do not visit". Upon asking people what it meant, they shared that the ANM with his team visited household of people who have returned back from cities. One of the men hesitantly whispered that "these people were asked to stay isolated from others as they could have brought the disease from outside". Unfortunately, in these households which are one or two-room dwellings, with an average family size of 6 members, it is impossible to stay home and maintain physical distance! We came across a family who had 14 members with 2 infants. The two brothers who had returned recently from Rajkot were working as cooks in one of the hotels –they had to return as the hotels closed down, and they did not even receive their salary for the last month.
We do not know what the extent of coronavirus infection might be in these locations, but we know from our earlier experiences, that these households have very limited food availability-the lockdown and resultant restricted earning opportunities will only make it worse.
We also know that many of them suffer from malnutrition, Tuberculosis, COPD and silicosis, that in any case damages their lungs
State response
Rajasthan state government has announced a clutch of measures to provide relief to the marginalised until lockdown. PDS plays a key role in providing free wheat for two months to 49.7 million families in Rajasthan, under the National Food Security Act (NFSA). An assistance of 1000 Rs has been announced for 36 lakh BPL and Antyodaya beneficiary families, along with 25-lakh construction worker and street vendors, who are not benefited under National food security act. Food package kits worth Rs 2000 crores have been provided for those families who are not covered under NFSA. While the support provided by the government will meet cereal requirements for most families covered under these schemes, other necessary food items such as pulses, oil, sugar, salt and other spices will remain highly inadequate.
Withdrawal of services
Dealing with this new crisis may worsen an existing one- that of malnutrition. The prevalence of malnutrition is agonizing in Rajasthan with about 40% children stunted, 23 % wasted, and 9% severely wasted. In South Rajasthan the situation is even worse: A 2014 study conducted in select panchayats of this region revealed children in the age-group 6 months to 36 months consumed very little besides crumbs of rotis e.g. only 28 % were found to consume any milk and none consumed egg or any other animal protein. In such underfed population, stopping supplementary feeding programs such as Anganwadis and mid-day meal would hit the hardest.
All schools and Anganwadis have been shut, removing the only source of nutritious food for millions of children: midday meal to school going children and hot cooked meal to children from 3 years to 6 years. In addition, take-home-ration for pregnant and lactating women and children under-threes is also affected. Such a withdrawal would have a major impact on nutrition of these vulnerable populations. Some nongovernmental organisations such as JSS in Jharkhand, and BHS in Rajasthan have been continuing the providing hot cooked meals at home in tiffins, that shows it is possible to continue supplementary nutrition, with due precautions
Affecting the vulnerable
Shankar works as a daily wage earner and stands every-day at the Naka in Udaipur in search of work. He has been at home since more than a month now and has not earned a penny. He and his family, consisting of his son, wife and mother are living on the wheat yield harvested last month. He has to manage food for the family for his son, wife and mother. These days, his family eats some chapattis with chillies or if lucky, with watery chhach that he secures in exchange of wheat once a week from a nearby hamlet.
Bhagli works as a labourer under MNREGA -which has come to a standstill. She earns Rs 180 daily which barely covers the expenses of her family of 4 children. She shared her grief with us that like her, many women in her village are finding it difficult to survive since the work has dried up. Most of the days all these families are eating cereals provided by the government or some they had stored from the previous year yield.
Call for Action:
PDS should reach every household irrespective of their BPL status. PDS should include pulses, oil, salt and condiments. Anganwadis should provide hot cooked meals at households for young children, and so should schools provide mid-day meals. MGNREGA should resume immediately and payments for the previous work made urgently. This is minimum we can do for these millions who put food on our table and build our homes.
Note: the names have been changed for confidentiality
Anupriya Saxena is nutritionist by training and coordinates the nutrition initiatives at Basic Healthcare Services (BHS).