"Our daughter is alive today only because of the care she received."
Under nutrition is probably the most wide-spread problem in Southern Rajasthan, and one of the major contributers of morbidity and mortality among the population. Phulwaris (Crèches )  were set-up in the communities to address malnutrition in children under 5 years, an age when they are the most vulnerable. The Phulwaris provide the children with a safe space while their parents work, three nutritious meals a day, and engagement in the form of play to stimulate their cognitive learning. Apart from this, they have begun emerging as wellness centres within the community, and a platform to engage with the families in matters of health and nutrition.
Ramila's story
Ramila is the youngest of four children born to Meera and Motiya. Like most men in the community, Motiya migrates to a distant city for work in the unorganized sector for most of the year, and returns home for festivals and other household functions. Meera would drop off Ramila and her older brothers to the Phulwari in the compound beside their house, before heading to the fields for a long days' work. Ramila would often remain ill and less active than the other children at the Phulwari. The Phulwari worker Varjubai recalls, "She would turn her face away and not accept any food."
Her condition progressively deteriorated. Meera and Motiya visited many local traditional healers in the hope that they would make Ramila well again. Meera thinks of those difficult times, "We were beginning to give up all hope, we had tried all we could. My husband accepted fate and left for work with the thought that he would not see Ramila the next time he came home."
Ramila was identified to be severely underweight during a routine Growth Monitoring session at the Phulwari. At 2 years she was just 6.5 kgs. The Supervisor and the community worker persistently counseled Meera to take her to AMRIT clinic. At first she was reluctant. She shies away while saying, "I had my doubts. I knew they take blood samples and perform tests at the clinic and felt that would harm my daughter, but I agreed to it as a last resort."
At the clinic Ramila was diagnosed with Severe Acute Malnutrition (SAM).  She was treated with antibiotics for her illness, and started on Ready-to-Use Therapeutic Foods (RUTF), an energy- and nutrient-rich food for SAM children. Meera was asked to bring Ramila to the clinic for a visit every week, while she continued to feed her RUTF. In her mother's absence the phulwari workers ensured she ate wholesome meals at regular intervals. During the course of her treatment Ramila had repeated infections and was treated at AMRIT Clinic for severe anemia, pneumonia and diarrhea.
After seven visits and management of several illness episodes Ramila recovered from SAM. Her appetite improved. She would even wake up in the night sometimes asking for food, a big contrast to her poor appetite earlier. Motiya recalls, "When I came home for Rakhi (an important festival in North India) I could not believe my eyes. Ramila was smiling and her cheeks were full."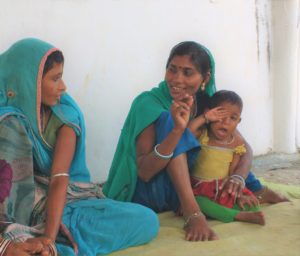 Setting an example
Ramila is now a regular at the Phulwari with her voice loud and clear while reciting the rhymes and tunes. Sugnabai, a relative and also a community volunteer with AMRIT says, "Ramila ensures that she washes her hands before every meal, a lesson she learnt at the Phulwari. She is setting an example for her entire family." Meera adds with a sparkle in her eye, "The phulwari has been very crucial to Ramila's recovery. Our daughter is alive today only because of the care she received at AMRIT clinic and the constant effort of the team."
Ramila is a beacon of hope to other families with children on treatment for SAM. Mother and daughter attend 'Nutrition Day' a peer group meet for parents of children on treatment and share their journey, motivating them to persevere through treatment.