What Has AMRIT's Impact Been?
AMRIT clinics presently cater to the healthcare needs of a population of around 36,000 in 8 Panchayats. Each of the 3 clinics are located in a rural and remote location providing round the clock, high-quality and affordable health care to vulnerable and under-served communities.
AMRIT clinics have progressively received more patients over the years. Cumulatively, the clinics have received over 45,500 patient-visits.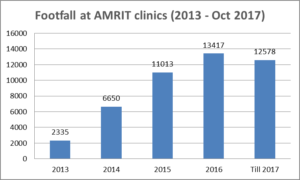 Of the little over 19,000 registered patients, 97% are tribal, 80% are from a migrant household, 59% are women and 15% were children under-five years. At baseline, we found that women were least likely to seek care when they fall ill: In a population where women do not seek care for their illnesses, larger numbers of women than men seeking care is encouraging. A total of 649 patients with life-threatening complications received in-patient care at the Clinics. These included children with severe pneumonia and women with severe malaria.
Reproductive health continues to be a strong focus of AMRIT's clinic and community outreach activities. About 2000 women received contraceptives, enabling them to plan their families. During this period, 2422 women received quality antenatal care during pregnancy, which is about 60% of all pregnant women in the communities. A total of 408 women had a safe childbirth in the Clinics, closer to home, in a well-equipped labour room  and at a cost of Rs. 500 only.  In one the clinics areas (Bedawal), 95% women delivered at home at the baseline study, which has now reduced to 50%.
A total of 462 patients with Tuberculosis sought care at AMRIT Clinics and about 60% of them were fully cured. Addressing Severe Acute Malnutrition (SAM) in children under 5 years in these tribal pockets is an extensive program by BHS. Since the beginning of this program in 2016, about 180 children have been treated at the clinics.
Primary Healthcare Centre managed by BHS under Public-Private Partnership
BHS adapts learning from the AMRIT clinic model in the running of a Primary Health Centre (PHC) Nithauwa in Dungarpur district which it manages under a Public Private Partnership. This initiative has helped it expand it's services to a larger population that the PHC covers. At the same time, it is applying the lessons from it's ground operations at AMRIT to the Public health system, and influencing the way healthcare is delivered in other PHCs in remote areas of the country.
After taking over the PHC in August 2015, the performance has undergone a transformative change:
Annual footfall increased by more than 2 times, from 11,953 to 30,127 in one year
Annual number of deliveries increased by nearly 2 times from 209 to 395
Annual number of in-patients increased from 220 to 1416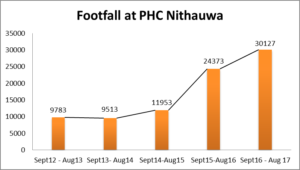 Child day care centres (Phulwaris) and Nutritional programme
---
Phulwari's or children's crèches were started in the remote villages to improve the nutritional status and cognitive learning of the children under 5 years in the hamlet. The first phulwari was set-up in 2013. At present 10 phulwaris are functional across the 3 clinic catchment areas providing a safe place, nutritional meals four times a day and organizing engaging activities for 140 children.
Through the network of phulwaris, AMRIT's initiative has prevented or reversed malnutrition in about 250 families while the prevalence of wasting in children under 3 years enrolled in the phulwaris has reduced from 25% in Jan 2016 to 12 % in July 2017. Additionally, Health and nutritional education is being imparted to families of 1048 children under 3 years of age every month.
Growth monitoring activities are conducted monthly by outreach workers across 47 hamlets surveying 1820 households and weighing over 900 children under 3 years.