Managing healthcare in remote, rural areas in the times of COVID: Insights from a doctor on the frontline
With much focus on Covid-19, there is a loss of focus on other healthcare services. The most affected are patients suffering from chronic illnesses such as Hypertension, Diabetes, Hypothyroidism, Tuberculosis, Rheumatic diseases etc. We are noticing several instances where these patients are not able to visit our clinics due to the lockdown, and we have responded by delivering drugs at their doorsteps.
We are also facing problems in confirming diagnoses of patients with suspected Tuberculosis. Due to restricted mobility and non-availability of transportation, it is impossible for patients to visit the town for a Chest X-Ray, and we are also finding it difficult to get the sputum tested for CBNAAT from our partner labs. Such a delay is likely to result in deterioration of health and greater chances that the disease spreads among family members, who are now spending more time indoors than previously.
Due to recommended use HCQ for prophylaxis, its demand has increased exponentially and has resulted in non-availability for those patients who need it for their illnesses such as Rheumatoid Arthritis.
Other services such as pregnancy, contraception, treatment for bed ridden patients, rehabilitation services, care to women , children and elderly are also getting quite affected, especially where families have limited resources and mobility. There is also likely to be a huge increase in mental illnesses in population during lockdown. In our populations, contraception is a big need, and since many migrants have returned and are at home for prolonged periods, there is likely to be an increase in unwanted pregnancies, and subsequently termination of pregnancies.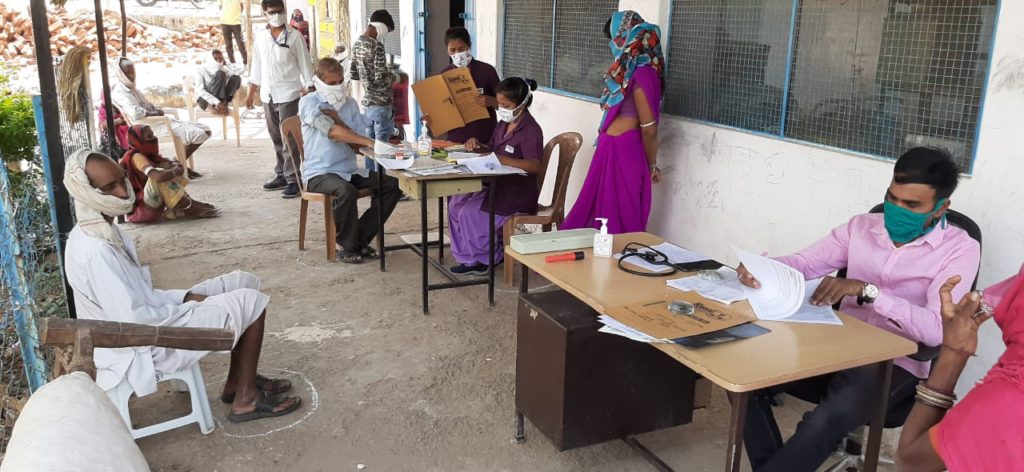 Primary care is getting severely affected which is likely to result in more cases presenting to secondary or tertiary hospitals in coming days.
Not only will it delay the treatment and adversely affect the outcomes, it would also impose much greater financial burden on their pockets. In short, it would lead to more suffering, wastage of time, money and resources.
We are also witnessing a decrease in food availability due to less transport. In rural population people are getting groceries at higher prices. Already they have lost their jobs and most are unable to purchase.
Government are providing wheat, but in several places it is not reaching in time. Besides, even when wheat reaches the families, they have very little else. Due to less food availability nutrition of population is severely affected. In our population already most people, children, women and men are malnourished and this situation will propel them in to even more severe malnutrition, which in turn will lead to higher susceptibility to infections and deaths.
Domestic Violence
Recently in one of the clinics I manage, a woman was beaten by her husband with a stick and she presented with a deep lacerated wound on her scalp. We sutured the physical wound, but how do we suture the deeper wound?
The case of domestic violence that present to the clinic is like the tip of the iceberg. Not just women; children and elderly are also subject to violence; physical or mental.
Solutions:
Measure such as lockdown, which has exacerbated some of these problems, is also necessary to stop the epidemic from spreading, and in its absence, the epidemic may flare up. We have to therefore find out a way to provide continued services, ensure availability of food and progressively enhance access to healthcare. A middle path, as Buddha suggested.
At AMRIT Clinics, we are continuing to provide the primary healthcare services, while ensuring personal protection of the staff. We have reorganized the clinic so that the consultation is done outdoors, and the flow is such that there is never crowding of patients indoors. We have also enforced hand hygiene, and appropriate masks. Since many chronic patients, such as that for TB are not able to come to the Clinic, our health workers visit them at their homes and deliver the medicines.
In our field we have identified many families who have no food to eat and delivering food packets to them whatever amount we can provide. We are also providing cooked food to children under-five in our clincia areas, who were earlier enrolled in our Phulwaris. We will also now work with and enforce local authorities to wake up and reach larger numbers of families. We will involve local communities in enforcing the accountability, and also partner with other NGOs in the region.
In future, nutrition programmes that we or other organizations run should not just focus on providing food but also on making families learn how to grow food in their own lands. Providing food is not a sustainable option-In acute situations such as these, it is necessary but in long term, it may make them dependent on external sources
We have also started counselling the migrants who have returned to their villages on use of contraception. We will continue to lay greater emphasis on sexual health and contraception in times to come, as we expect greater need.
Having benefitted immensely from practice of Yoga, I personally feel that we should teach Yoga to families, which will help them cope with this crisis and also promote their mental health. I have some experience in this field and would want to play a role here.
Vivek Kumar,MBBS is a Basic HealthCare Services fellow who hails from Bihar and is providing primary healthcare services and supporting our nurses at AMRIT clinics. With the current spread of the pandemic, Vivek has been proactively involved with the clinic teams and manages the Doctor days across the clinics in Salumber block