Musings of a young doctor
Musings of a young doctor
Chapter 1 : Am I heading towards the right direction ?
Thank God! Finally that day has arrived, it's degree completion day. After a lot of struggle and efforts, I have earned the MBBS degree, and I am
officially a doctor. I enjoyed this sense of achievement for a few days by celebrating for the next few days. But as you know, nothing stays forever and so this fun too had to end. The excitement stays only till you achieve the planned target – once you achieve it, all the excitement is gone. The same happened with me- I realized that I haven't done anything different by completing MBBS. Thousand of students graduate every year and become doctors and I was one of them.There was nothing so special about it. Before getting admitted to medical school, I used to always think about how wonderful lives doctors might be living.They have such respect in the society and also a lot of money. Doctors must be enjoying their lives to the fullest, I believed. But I don't know why my whole perspective about the life of doctors has changed after graduating. May be times have changed now that's why I was feeling so?
Within a few days I realized that my colleagues are participating in a different kind of race. And I was like what the hell? I thought,I just now finished this Herculean task of completing MBBS and now once again everyone is at ground zero. My colleagues had started preparing for another big battle, the mighty PG entrance. It was like "aasman se gire, khajur me atake" situation for me. Everybody around me is running like headless chickens: seniors, colleagues, juniors, but for what? No one had any clue. But one thing was common for all: they all believed that if you have not done a Masters degree after MBBS, you are a big failure. Everyone in my friend circle used to tell me about the benefits of pursuing Masters, and why I should also join a coaching institute to get through the PG entrance.
I would get completely irritated with them. If my value after doing MBBS is nothing then I don't think that after doing masters I will become Henry Grey or Harrison. To get through the PG entrance,I would have required to enroll in a coaching institution which was not acceptable to my conscience. Now,I was in a situation that I needed to decide whether I follow the crowd or pave my own path. After a lot of pondering,I decided to follow my heart. I decided that I am not going to waste money in coaching classes, as whatever they will teach me in coaching that has already been taught to me during my MBBS days. Now it was sorted that I am not going to coaching.But again another big question was waiting for me. Do I really want to do a Masters, and if yes, from India or from overseas?
Chapter 2 : Paving my path ahead
I then decided to join residency at AIIMS Rishikesh and worked there for one year in different departments. Life seemed very easy, everything was fantastic and sorted out but only till the end of the residency period. After completion of one year job in a tertiary care hospital, was back to square one. I joined a private hospital in Anuppur District of Madhya Pradesh. Anuppur is a tribal dominant district, where you can find people from all types of socioeconomic backgrounds. I thought I would learn to manage healthcare in rural areas if I work here.
As I had confidence of working in AIIMS, I thought it will be easy to work with local population in Anuppur. But within a few days of my joining this hospital, I realized that I was wrong. It was a totally different scenario from the one that I had seen at AIIMS. Here the treatment rates were fixed by the public and the doctors' practice were unethical. It was a common belief among the people that if a doctor does not give injection or IV fluids then he is not a good doctor . The rates of injection were fixed at Rs.20/- and for a yellow or red coloured IV fluid,it was Rs.30/- to Rs.50/- Doctors would prescribe steroids for all- even MD Pediatrician would do the same. Unjudicious use of newer antibiotics was a common norm. This type of practice was not taught to me in my medical school nor at AIIMS. Such a practice started frustrating me everyday. Sometimes I would think about the situation & often wished to run away from that situation. But I had no choice but to continue working in that area. I was trying to learn the behaviour of that community so that I could make some change in the society. But this was a huge challenge for me.
It did not stop there ,within a week, hospital owners started interfering in my prescriptions. Both of the hospital owners were Homeopathic doctors, who had experience in working at five star hospitals in Bhopal. They had made a good hospital with almost all the facilities but the only thing they lacked were ethics. No ethics in treatment protocols was followed- now I realize they did not know about any clinical protocols. In my absence they used to sit in the OPD using my name. They prescribed what so ever was available in their medical store and that too was sold at MRP. IV set, cannula, common medicines, protein powders etc which they purchased at 10% of MRP was sold at MRP, at a profit of more than 90%. Apart from this, medical representatives also bribed them with lot of gifts and cash for prescribing their brands. This increased their net profit upto 150-200%. People of that area were all tribals, who had nowhere else to go. This whole situation forced me to think about the prevailing health scenario in this country. My heart wanted to change the job immediately but my brain did not allow me to do so, due to my responsibilities. I had to wait for the right opportunity & right time.
Chapter 3 : A ray of hope
God listened to my prayers and one of my seniors informed me about Basic Healthcare Services (BHS), a NGO based in Udaipur. We had a long discussion over phone & he assured me that BHS was the right place for a person like me, and that they have announced a fellowship for young physicians. He even arranged a Skype talk with one of the Founder & Secretary of BHS – Dr. Pavitra Mohan. Discussion with Dr. Pavitra encouraged me to think about joining BHS. I googled and read a lot about BHS . Finally I decided to write to Dr. Pavitra asking him to consider my application for a fellowship with BHS. Dr. Pavitra asked me to come and visit the BHS workplaces first.
I started on my journey to explore BHS. I met Dr. Pavitra in his Udaipur office. We had a small discussion about my experiences and BHS. Then he took me to Rawach Clinic which was under construction at that time. Rawach was around 60-70 kms from Udaipur, such remote that I questioned Dr.Pavitra if this place was really in Udaipur district . He passed a smile and replied that this is the last village of Udaipur district. When I reached the clinic, the clinic interiors and exteriors made me speechless. This was an ideal infrastructure for a Clinic or a Nursing home even for a city, and BHS created that sort of clinic in those remote places. I was quite impressed with this and that moment only I made my mind that I will join the BHS mission. I asked Dr. Pavitra how can I be a part of this organisation and what I can do. He told me about "Fellowship in Primary Care" offered by BHS. I decided to apply for this and returned back to Anuppur with some golden memories and a mission to work on.
After my visit in August and post completing the application process and other formalities for the felowship, I joined BHS as a fellow and started working with the team. Initial few days I tried to understand what exactly is going on in the organisation and what the organisation is upto. An empty board is what you need to write, hence I kept my mind open and receptive and did not try to make any prior judgment. Gradually,I learned about various fascinating facts and changes which efforts of BHS team has led to for the underserved community here. The first fact was that the clinics are located in the tribal areas which are not well connected by public transport, but people do walk upto 7-10 kilometres just to seek healthcare. Another fact was that in only fifty rupees a patient gets consultation, investigations and medicines for a week. The knowledge and confidence of nurses was something astonishing. I usually get to visit clinics on doctor days(doctors visit the clinics once a week) only, so it took me around two months to visit all the six clinics. Each clinic's locality is unique in its geography, population, food, dress and language. People are friendly, try to follow your advice and respect you from the core of your heart.
Initially one of the greatest challenge was to understand what the patient is trying to communicate to you in his/her language. Being native of Rajasthan border area in Haryana, I do understand Rajasthani but the local dialects are totally different(people speak Whaghadi here) . I was able to understand few words only and for the rest I always have to take help of local community members working at the clinics. Tough time but gradually I picked up more and more and at present I need help on very few occasions. I find this to be a positive change in me.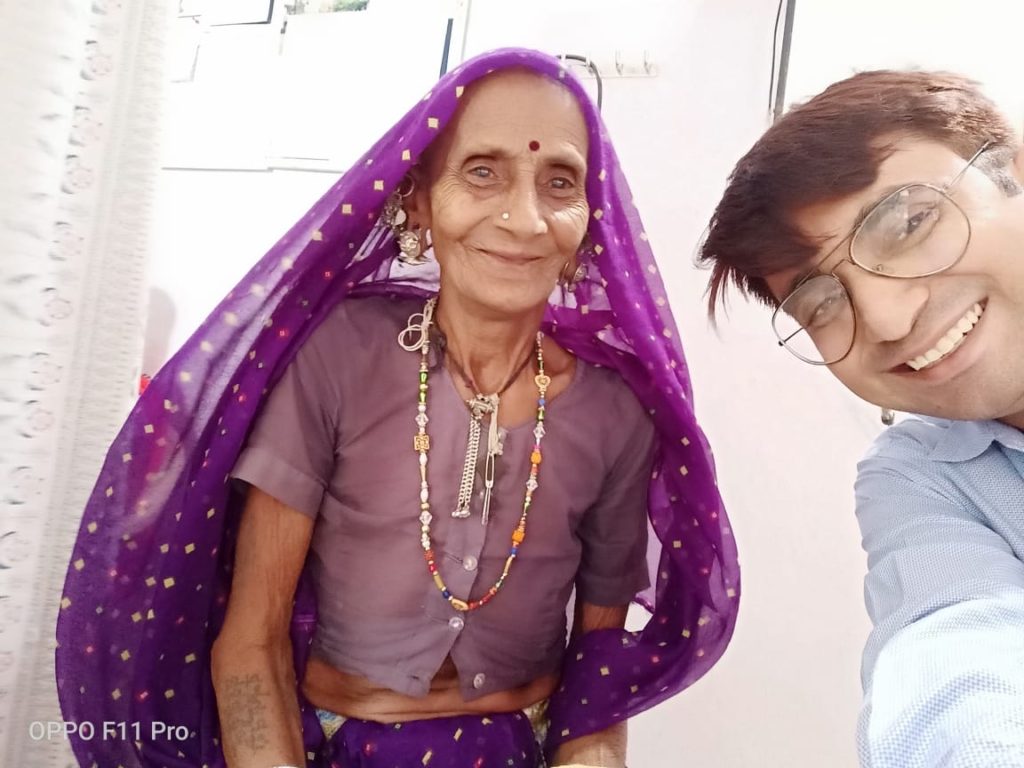 After working in AIIMS in a particular department, I almost forgot about other general conditions which one suffers from. Here also the team of doctors at BHS helped me a lot. In the starting I was always accompanied by another doctor for the clinic doctor days, so that I am comfortable and much used to day to day proceedings of the clinic. Another factor which helped me was 'AMRIT Clinic Protocols' – the holy book which covers all the general conditions which one suffers from (from newborns to elderly) and their management. The supportive and friendly nature of many learned senior doctors like Dr. Pavitra Mohan, Dr. Sanjana Mohan, Dr. Priyanka Paul and Dr. Gargi Goel, all together helped me to bring a positive transformation in my clinical knowledge. We also started weekly clinical case discussions, to discuss the difficult and different type of cases which we see in day to day practice.
Gradually days passed and I was three months old with the organisation, everything was going on smoothly. But something was disturbing me from inside that till date Dr. Pavitra has not uttered a single word about my progress, whether good or bad whatever it is. Though before joining BHS my senior has informed that Dr. Pavitra silently observes things and do communicate as and when required. As a natural human behavior, I was scared. I just wanted to know whether I am doing fine, and if he is happy with my work or not I finally decided to have a word with him to address my anxiety. Finally we sat together and I directly asked him whether everything is alright or not. Whether he has any concern regarding my working strategy. He smiled as usual and asked me what happened why I am asking such questions. I clearly stated that he has not done any review on my work and that's why I am worried. He calmly conveyed that largely he is happy with my learning and coordination with the team. Those were magical words for me. Now I was relaxed and thanked God.
Now when it all seemed set, suddenly one day, a surprising information was delivered to me. I was going to take charge of Salumber region as a Regional In-charge. So basically I was supposed to provide clinical care at all 3 Clinics of Salumber, and also assume managerial responsibilities which included HR part, administration and financial. I was informed that I have to take charge within two weeks and shift to Salumber town as soon as possible. Within four months, I did not expect such a transformation. I again had a small discussion about my concerns: I expressed my apprehension that it's a huge responsibility for me and I really don't know whether I am ready for it or not. Dr. Pavitra just said that it is an excellent opportunity at such a young age He told me to go ahead and that he and others are always by my side. Now it was time for me to be prepared and take on the new responsibility. Again I decided to go with the flow and gradually I picked up all the responsibilities. There are daily new challenges, new practical learnings which are transforming the way I think.
I often find that I can do much better and strive hard to do the best in the interest of the organisation. Many times I do get frustrated but it's not the organisation which makes me feel so, it's the attitude of the people about their health. As per the talks with our health workers and community members, I learnt that the current generation is not growing all those variety of foods which their ancestors used to do. Around three four decades back, these areas were agriculture based economies but now due to various factors it has turned up to be a migration labourer based economy. . At present they do not have enough nutritious food to eat. In cites we find overnutrition as a problem, while in these areas undernutrition is the problem we are fighting with. Very rarely we find people weighing more than 45kg and haemoglobin more than 8. We often counsel and encourage them to growing variety of food, making kitchen gardens, and eat nutritious food from that available within the communities. We all do not want to put people on medicines alone, we are trying to put them on a healthy lifestyle so that they don't get ill. We often try to do whatever possible in the present structure to help a sick patient. We face huge problem in referring patients that require next level of care. It's not that we do not have good referral options- we do have tie ups and links in medical colleges and tertiary hospitals in Udaipur. But the problem is that very few sick people requiring tertiary care accept referrals. The reason being that most of the times women are alone at the home, as their husbands are migrant workers and they have never been to Udaipur district. They are afraid of going to Udaipur out of the concern that neither they have much money nor they do know anyone there. We send the referrals in our ambulance and have one person designated only for following up the reports and patients sent to different locations in Udaipur. These challenges do disturb me but at the end smile of one patient treated well by you makes you feel happy. All these ups and downs are there daily, but at the end of the day I am happy with what I am doing here.
Now it's almost six months in BHS and I have visited all the six clinics and saw a lot of happy smiling faces all because of the facilities available at the clinics. The AMRIT Clinics acts as a Sanjeevani for the local population. The working environment of BHS is awesome. People working here are so much dedicated for the community development that this often fills my eyes with tear of joy. Due to the efforts of BHS staff community leaders are also coming forward & taking up the challenge to make their villages a better & healthy living place. Apart from providing healthcare facilities BHS is also helping people to get skilled in different areas with the help of its partner organizations, Aajevika Bureau & Shram Sarthi, is helping the sick to organise their life in a proper manner. All there three organisations are working together to rehabilitate the tribal population of southern Rajasthan. I am happy to be a part of BHS.
After working with three different organisations, the journey with BHS seems to be doing the most wonderful work and joining BHS is one of the best decisions made by me. I am very happy to be a part of change which we often want to see in the community.
Looking forward for more fellow doctors to join this great movement and help create the largest possible healthcare change in the lives of these innocent people.
Let's all strive to make dream of Universal Health Coverage a reality. Fingers crossed !!
Yogesh Sharma ,MBBS is a Basic HealthCare Services fellow who is working in the Salumber region of Udaipur district. He manages the 3 clinics located in the tribal areas, attending the patients and ensuring the smooth functioning of all the programs supported by the organisation.