"I am suffering for more than 6 months. I have been to many government hospitals, but they do not check properly- wahan jaane se gun nahi hua (there was no improvement there). That is why I travel 70 kms to come here- here you check us properly"- a 55 year old male visiting AMRIT Clinic in Ghated in Salumbar.
"Kalu (name changed) had lost so much weight and he could not even get up from the bed. His family had given up all hope that Kalu would survive. Their neighbors even said to us, hum intezaar kar rahe the ki kab unke ghar se rone ki awaaz aayegi (we were waiting for the time when we would hear wails coming from their home). He used to work in Ahmedabad earlier and had been ill for many months. He visited many quacks and also proper doctors and spent thousands of rupees but rather than getting better, his condition kept on getting worse. At 18 years of age, he weighed only 29 kilos"- a health worker sharing about Kalu, who comes from a village 45 kms from Salumbar, and 110 kms from Udaipur.
"I belong to UP. I had a proper job, was a driver in a company. Because of my illness I lost my job. Now I work on a per day basis. I have been ill for over a year and have been to many doctors. Do you think I will be able to get well and work again?"- a 40 year old in Ahmedabad.
"We come from Ara in Bihar. I worked in a chemical factory in Ahmedabad- we were exposed to so much fumes….even though I wore a mask, it helped very little. My job damaged my lungs and I caught this disease. I spent thousands of rupees in Ara on my treatment but did not get better. I came back to Ahmedabad, took treatment and got better. I started working again and soon afterwards fell very sick- I had developed the disease again. I also have Diabetes. I don't know if I will get well ever"- a 52 year old in Ahmedabad. His wife adds- "Madamji, you ask him to eat fruits. Without a job, we barely manage to eat roti, how can we even think of fruits? When we were in village, our neighbors would give us grains and dal. Here, nobody helps- gaon to gaon hota hai na (a village is a village after all, no?). Every month, he spends Rs. 250 for his diabetes medicines. TB medicines we get for free. We do not get any ration from the government, neither here nor at home in Ara. We have heard about the money coming into the account of TB patients. He has been on treatment for 3 months, but has not received any money".
It may be argued that these are the most extreme situations and that for the majority of patients the situation is not so bad. It is also being said that in the post-COVID world with use of masks and social distancing, we are well on our way to do away with TB. As we share below, the reality seems to match the stories and is quite contrary to these arguments.
Across AMRIT Clinics (primary healthcare clinics in remote, tribal populations in Udaipur in southern Rajasthan), the number of TB patients has grown significantly since the pandemic came. In 2020, we saw a 40% increase in the numbers as compared to 2019 (Figure 1). These include many coming from far-off areas, as seen in the story above. Over half of these are men, who had been working in cities earlier- most commonly in Gujarat, and had to return home due to "Corona", or the illness, or both.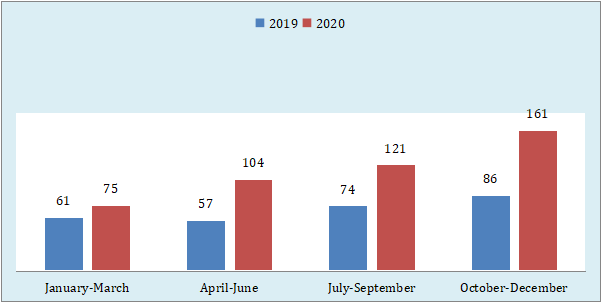 Most of the patients are also severely malnourished. Often, you can guess that a patient who is sitting across you would be having TB and in most situations, your guess is correct. We analyzed nutritional status of 106 TB patients enrolled across our clinics in 2018-19 (Figure 2): over 80% were malnourished (BMI<18.5), with half being severely so (BMI<16). It is sobering to consider this in light of the pandemic, during which time food insecurity has grown, livelihoods have shrunk, and care for TB has also got disrupted: the levels of malnutrition are likely to have worsened even further.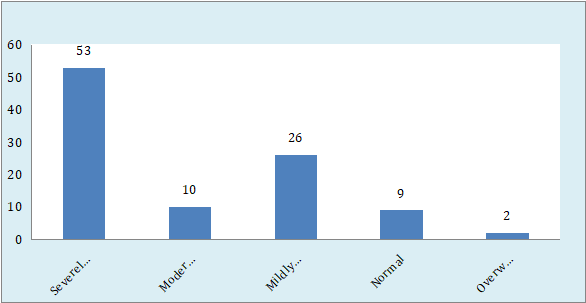 The voices and figures are giving us a clear message. We need to improve diagnosis and treatment services for TB across our primary healthcare facilities- these are the facilities closest to where the patients live, where patients can come frequently. In addition to TB, we need to also look at the many conditions likely to coexist in the patients, such as diabetes. And we need to get nutritious foods in their households and on their plates. Unless we do this, we will be fighting a losing battle. And our next generations will not forgive us.  
– This article is writen by Sanjana Brahmawar Mohan, director at Basic HealthCare Services with Arpita Amin,Executive Research at Basic HealthCare Services