Beyond the pathology of a disease: Tuberculosis and the clarion call for a patient-centric approach
Learnings from the AMRIT experience
 Khera* is a 19 year old young boy, who hails from a small hamlet situated in a remote tribal area in Southern Rajasthan. It was one of the wintry evenings when Khera was found bed-ridden profusely coughing and abysmally pale and fatigued, by a team of nurse and health workers from AMRIT Clinic. Upon inquiring, his father Kosa ji* shared that his son was suffering from an illness that seemed to have no cure. He went on to share that the boy had been taken to a traditional healer and alternate private providers in the local vicinity and an amount of Rs. 15,000 was already spent on him.
However the boy's  health was deteriorating by the day. The parents had given up all hope and awaited his death with grief and remorse. On listening to the narrative of the entire family, the nurses took charge of the situation and immediately made arrangements for referring him to the clinic. It was 8pm in the cold November night of 2016 then. Weighing barely 30 kilos then, Khera was lifted on a khatiya and carried across a maize field to the ambulance and rushed to the clinic. The AMRIT Nurses immediately took  vitals, stabilised him and planned for referral to the Govt. hospital in Udaipur.
In Udaipur, Khera was immediately provided blood transfusion and remained hospitalised for a few days after which his treatment for Pulmonary TB category 2 was started from AMRIT. This meant that he had to receive Injection Streptomycin on periodic intervals for the first two months . The Clinic team took it in their stride to support Khera and motivate his father Kosa ji to take responsibility. For a father who had given up on his child, Kosa ji prepared his mind to support his son in recovery. He rented a small house (kachha) that was located near the road for ease of access to the market. Every alternate day, Khera would be visited by the health worker who would spend time with him, motivating him and making him feel at ease. For Khera to recover, both timely medicine and high protein and iron rich diet were essential. Kosa ji, who lived on cultivating a small plot of land, did not have enough savings to provide for his dietary requirements. However he ensured the boy was provided cereals and vegetables that could be procured within his capacity. To meet the additional supplementary requirements, the clinic team supported in providing a monthly crate of eggs. Khera and his father, who were aversive to consumption of eggs due to religious forbiddance, were consistently counseled for the need to include the item in his daily food. After intial hesitance Khera  eventually began consuming two eggs a day. During this period, an older lady residing in the vicinity took it as a responsibility to prepare food for the young boy and checking on him now and then.
In the initial few months, Khera would be seen looking pale and sorrowful, quietly seated for his turn for check-up at the clinic. The team at Manpur would make it a point to sit and spend time with him and make him feel belonged. It was never this easy. There were times when he would be agitated and would not show up for receiving the course on time. Both Khera and Kosa ji were encouraged and counseled to have faith in the treatment and not leave any stone unturned. The father then had arranged for a neighbour, who would bring Khera on a bike to the clinic for check-ups.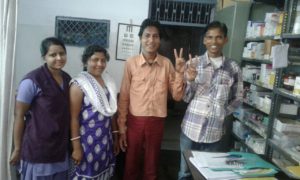 Gradually Khera started recovering and showing positive response to the treatment. In the 6th month  of treatment, his weight had increased to 49 kilos. During one of those days, he had expressed his interest in learning tailoring at the Aajeevika Bureau's skill training centre. The Clinic team contacted the Skill Training Academy and arranged for linking him to the summer training. By the end of his treatment,  Khera would be seen once or twice every fortnight, paying a casual visit to the clinic or walking up, smartly dressed to collect his medicines. He would also accompany young men of his age with suspected symptoms of TB to the clinic as well. Khera also participated in the health campaign on Tuberculosis organised in his village and would be seen counselling and linking defaulters from treatment.
As much as the fear of HIV haunts,  Tuberculosis too  stands on the face, its fangs spread far and wide, afflicting not just pathologically but crumbling down an individual and family- its well-being, its economic and social stability. The Global TB Report published in 2017 brought out some startling facts on this disease. India topped the list of seven countries cumulatively accounting for 64% of the 10.4 million new tuberculosis (TB) cases worldwide in 2016.Moreover,  India shares a global burden of 26% of all tuberculosis deaths worldwide. Further, the NFHS 4 Report of Rajasthan revealed a higher burden of this illness in rural areas (237 per 100,000) of the state as compared to urban areas (148).
The 'India: Health of the Nation's States' Report (2017) highlighted that Rajasthan was the fourth leading state with individual cases of Tuberculosis and  with a higher death rate (41%) than the national mean (33%). Khera's is one of the many stories of  precarity caused by the prevalence of tuberculosis in  underserved, rural pockets of Southern Rajasthan. Apart from being highly infectious, TB has multi-faceted anomaly that makes it a graver concern today worldwide. In areas where poverty penetrates every household, 70 % of the population is engaged in hazardous , impoverished workspaces as labour migrants and availability of nutritious food is scarce, high rates of incidence of TB and high rates of mortality can be seen as major outcomes. In addition, social stigmas and misconceptions associ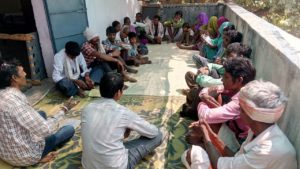 ated with the disease including social boycott of the patient, makes it difficult to seek care. Furthermore the lack of support and empathy aggravate the condition of a patient who could well be saved on time and rejuvenated back to spirit and life. Rajasthan NFHS 4 highlighted that around 65% women and 72% men had misconceptions associated with the disease. This, further  aggravated by paucity of quality health services, contributes to delayed and often inappopriate care-seeking in the underserved communities.  Delayed care-seeking has been a contributing  factor to the increasing number of drug-resistent TB strain in a patient (600,000 cases in 2016) that intensifies risk of mortality and a risk of spreading the same.
In this context then,  prevalence and role of traditional healers and unqualified quacks is prominently seen, adding to the severity of the disease and scraping off every savings that a family with bare minimum income could afford. In Khera's case, Kosa ji had lost a humongous amount of Rs. 15000 because he was asked by the local bhopa to sacrifice a goat and later was charged Rs 500 for each visit by the local quack, all in the name of treatment.
In the entire gamut of strategy to fight TB, patient care needs to be thought through and provided at all levels. For a health care provider, this implies more than just providing the treatment course. Firstly it is essential that quality healthcare is available and easily .accessible to the last mile community. This requires quality clinical care as well as mobility and reach of the team to the remotest pockets, that enables a close contact with the community and helps in early identification of the disease. In the next level, to fight a chronic illness like TB with prolonged treatment , necessarily requires building a strong and resilient support system of the family and well-wishers around the patient. Khera's transformation was one of a dying hope brought to life with the efforts of his father, the elder lady and his neighbour, to name a few. The clinic team at AMRIT Manpur helped create a road-map and supported the patient and the well-wishers in taking every positive step. This team of young nurses and health workers from the same community enabled Khera and his family to approach, consult and seek treatment as well as share their concerns.  During this process, consistent counselling and motivation, enabling the spirit of the patient and his family and creating an amiable, patient-friendly environment were building blocks to recovery of the young boy.
Through a patient-centric approach which includes 24 *7 availability, low-cost and high quality treatment, a combination of clinical and outreach services, support in the process of sample testing, counselling,  follow-up home visits for consistent support to the patient and family, AMRIT clinic is contributing to the global effort in fighting the disease of tuberculosis. The presence of these primary health clinics have enabled patients in rural and remote areas to seek quality healthcare , reducing their out of pocket expenses and most importantly prevent untimely deaths.
The story however does not end here. AMRIT Clinic's endeavour encompasses ensuring completion of treatment as well as enabling a patient lead a normal, healthier and productive life through the interface of multi-dimensional linkages like trainings, social security and financial support. Khera's story stands as an testimony of quality patient care from an estimate of 450 other cases of tuberculosis that AMRIT clinics have managed so far, focussing on the patient and family as the 'subject' rather than just the 'recipient'.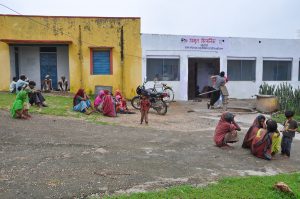 Over a span of 9 months Khera's overall BMI improved with an increase in weight of 18 kilos. Khera recovered from tuberculosis in the month of August'17 and today he is one of the peer educators motivating and educating  community members on prevention and early care-seeking and re-instilling the value of AMRIT clinics in the community. He completed his training in tailoring from STEP Academy and plans to set up his own business where he would take orders for different kinds of  costumes and stitching and dreams of making it a big enterprise.
*names of persons changed to protect identity
Manisha Dutta, Executive (Programs)